Wednesday, October 10th, 2007
A long due project, the new face of After3D.com. Showcasing my wife's "Sofie" Work portfolio.
I am pretty lousy on making a fast design decision, so this portfolio was design by Sofie her self, and I just implementing the functionality based on her request 🙂 SO … Thank you Sofie for the great design 🙂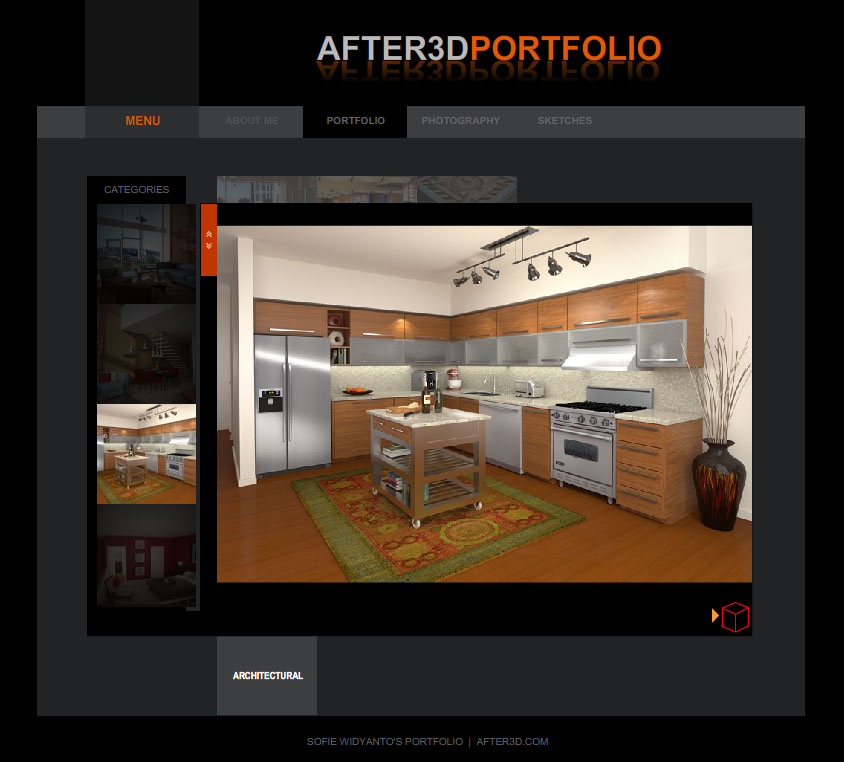 To make updating the site easier both for me and Sofie, I put this feature for the site:
XML based configuration file for Menu buttons, text content and gallery RSS feed link
All image content is based on the Gallery2 RSS, whee Sofie can easily add her workpiece into gallery and the new images will be reflected automatically in her flash portfolio site
A linkage to the wire frame images in some of the artwork, showcasing the detail wire frame rendering.
Copy of resume in multiple format is connected directly to her emurse account, so at anytime she update her resume in emurse.com all changes will be automatically populated in all formats. No more copy pasting in PDF, txt and word document… YAY
Behind the scene, I separate the Business model and the View model, so at anytime she bored with this themes, I can easily update the FLA with new graphics and re-compile the SWF with new skin and all SHOULD work the same 🙂
OK now, one project done, time to find another things to learn and do.