Thursday, February 28th, 2008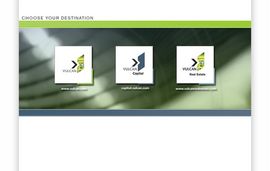 I had a privilege to work with the web and UI team in Vulcan Inc. to give a new face to the previous vulcan.com site.
The site design was done long before I am join in the team.
My task in the team is to develop a flash module for the front page to give the first time user an overview of vast diversity that Vulcan Inc. has. Covering from sport team through the philanthropy organization that Paul Allen has.
One of the requirement for the flash module is, it need to be easy to update and doesn't any help from me to re compile the content. So, I came up with the image slider that can be controller from an XML files. The XML will set the image collection, color icon, link to the category page and the delay time for the image to be shown in the front page. I am using bitmap filtering for the blur and wash out the icon color in the non selected mode.
I love the way AS3 manage the event base modeling. The display object management help me prepare the images without worrying the screen / movie clip management as in AS2. And new E4X in AS3 is a total God send to help programmer consume XML easily in flash.
The slider went through several iteration and the team decide to use the version that has a series of ICONS representing Vulcan Inc. groups and an image to give an overview of the latest news related to the group. Troy, one of the designer in the web team push in the idea to use flv along with images.
His ideas gave a nice dynamic features to the vulcan.com home page. Currently the flv slash overview will show up during the vulcan productions selection.
So, enough rambling here and click on the site preview image to jump to the vulcan.com site